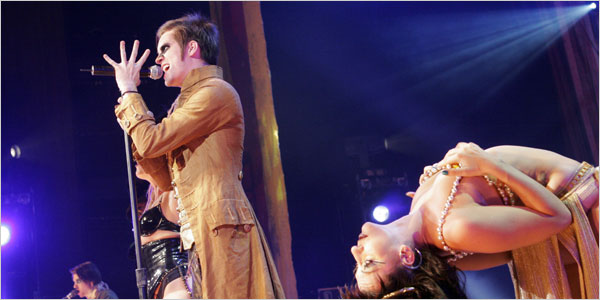 By KELEFA SANNEH
No one saw it coming, but 2006 has been quite a year for circus rock. There is "Love," the Beatles tribute by Cirque du Soleil. There is (for five more days) "The Times They Are A-Changin'," Twyla Tharp's circus-inspired presentation of Bob Dylan's music.
And then there is Panic! at the Disco, a young band whose members took matters into their own hands. They don't need outside theater companies or choreographers. They were circusized at birth.
The band, based in Las Vegas, played its first concert last summer, shortly before the release of "A Fever You Can't Sweat Out" (Decaydance/Fueled by Ramen). Since then the band has become an MTV staple, thanks mainly to the extravagant music video for "I Write Sins Not Tragedies" (lots of mimes and top hats); the album has sold more than 1.3 million copies in the United States. And now comes the band's first major tour, the "Nothing Rhymes With Circus" tour. When the stilt walkers take the stage, you can't say you weren't warned.
The tour arrived at the Theater at Madison Square Garden on Monday for the first of two performances there. (The English band Bloc Party was scheduled to be an opening act but had to cancel after its drummer, Matt Tong, suffered a collapsed lung.) And, as promised, Panic! at the Disco was a real spectacle.
Panic! at the Disco is loosely affiliated with the world of emo, and the band was championed early on by Pete Wentz, from Fall Out Boy. The lead singer, Brendan Urie, writes wordy lyrics that poke fun at emo angst without quite forswearing it. His lyrics come out in mile-a-minute bursts, and he often sounds half-hysterical and half-sarcastic. Which is to say, he mimics a speech pattern commonly associated with female suburban teenagers; no wonder so many of them have repaid him by buying this album.
Certainly boys seemed to be a minority on Monday night. And Mr. Urie delighted in teasing both the boys and the girls. Early on, when describing a dream about a "perfect, passionate kiss," he drew close to the guitarist, Ryan Ross. And when four female dancers took the stage, shimmying in bras and tutus, Mr. Urie didn't leer at them — he joined them.
It would be nice if all this energy and fizz were deployed in the service of great music. But "A Fever You Can't Sweat Out" is a rather irritating CD; the overwritten lyrics and overstuffed songs tend to overpower even the strongest melodies. Mr. Urie's stage patter — "Ladies and gentlemen, children of all ages, welcome!" — was as affected as his lyrics; maybe that's just how he talks.
Still, there's something charming about watching a band trying to navigate sudden success, aided by a contortionist, a ribbon dancer and all the rest of it. Even so, nothing was as manic as the songs themselves, and nothing was more impressive than watching the fans sing along.
"But It's Better if You Do" begins with a typically tongue-twisting couplet: "Now I'm of consenting age to be forgetting you in a cabaret/Somewhere downtown, where a burlesque queen may even ask my name." Any band that can get fans to sing along with lyrics like those must be doing something right.
:::The New York Times:::